PDXplorer PDX Viewer Software
Open PDX packages created by PDXpert® and other product lifecycle management software
PDXplorer PDX Viewer software
The PDXplorer PDX Viewer is a simple, free, user-friendly tool for viewing parts, multi-level BOMs, file attachments and other PDX design package data. It offers a powerful interface that displays helpful labels rather than the obscure names defined by IPC-2570.
PDXplorer 4.2 highlights differences between PDX packages, and can export data in user-defined Excel CSV text files.
Requirements
PDXplorer 4.x is obsolete, and may not work well on recent Windows. We recommend PDXplorer 5 for all Windows 7 / 8.1 / 10 / 11 releases.
Hardware
Requirements
Processor
32-bit: 2 GHz Pentium III (or equivalent), or higher
64-bit: 2 GHz AMD Opteron, AMD Athlon 64, Intel Xeon with Intel EM64T support, Intel Pentium IV with EM64T support, or higher
Memory (RAM)
512 MiB (1 GB recommended) prior to Windows 7
1 GB (2 GB recommended) for Windows 7, or higher
Hard disk space
10 MB for application installation. You'll also require enough working space to uncompress the PDX files, which may be 2-3 times larger than your largest PDX file.
| Windows operating systems with .NET 4 or higher | 32-bit | 64-bit |
| --- | --- | --- |
| Windows Server 2008, 2008R2: all Editions | Yes | Yes |
| Windows 7: Home Premium, Professional, Enterprise, Ultimate | SP1 | SP1 |
| Windows Vista: Home Premium, Business, Enterprise, Ultimate | SP2 | Yes |
| Windows Server 2003: all Editions | SP2 | SP2 |
| Windows XP: Professional | SP3 | SP2 |
Download & install
Before installing this release, use Windows Control Panel to uninstall any previous PDXplorer Viewer release.
Microsoft .NET 4 Client Profile is a prerequisite, and is installed on most Windows operating systems.
If your computer doesn't have the Microsoft .NET Framework 4 Client Profile installed, you can install it now, or accept it via Windows Update, before installing the PDXplorer Viewer.
The PDXplorer PDX Viewer installer uses the Microsoft Installer setup (.exe) format. If these files are blocked on your computer, you can download the compressed (.zip) version, and then extract the PDXplorerViewerSetup file. The Microsoft Installer (.msi) format is used for group policy object (GPO) deployment.
The application interface can be changed from English to Deutsch, español, français, 简体中文 and other languages.
Run
Start the PDXplorer PDX Viewer by selecting it from your Windows Start menu or your Desktop.
When the application opens:
Click on the icon to navigate to a PDX package.

Click on the icon to open the on-line help topics in your web browser.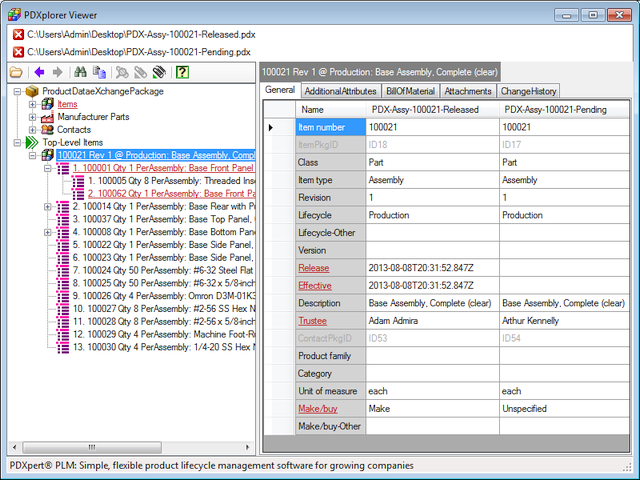 Example PDX file
You can test your PDXplorer PDX Viewer installation with this IPC-2570 demonstration file:
To uninstall PDXplorer PDX Viewer
Use Windows Control Panel to remove the PDXplorer PDX Viewer from your computer:
In the Windows Start menu, select

Control Panel

, then

Programs and Features

.
Scroll down the list to find

PDXplorer

or

PDXplorer Viewer

.
Select the item, and click the
button at the top of the list.
PDXplorer PDX Viewer release notes
4.2.25840.0 (2014-02-19)
Compare the content of two or more top-level items, independent of their item numbers [B5161]
4.1.25541.0 (2013-12-07)
4.0.24399.0 (2013-08-27)
Compare the content of two or more top-level items by matching their item numbers
Open PDX packages greater than 1 GB
Open Agile PDX – e.g.,

Oracle/Extract/9.3.1/56

– even when

<Contact>

omits two

#Required

attributes [B1028]
3.0.21602.0 (2012-12-16)
Revise German translation [C21262]
Re-open/restore main window within last or active screen [B1001]
Display COPY context menu option on all grids [B1000]
Update statusbar messages [B1002]
3.0.20653.0 (2012-07-26)
Redesigned user interface.